CSP® Program
CSP® Program
The Certified Sales Professional (CSP®) Program gives a thorough understanding of consultative selling. From business creation to improved time and territory management, goal-setting to prospecting, and everything in between, attendees return to the territory with a renewed enthusiasm for selling.  Regardless of industry or place in the sales channel, you'll want and you'll need is a CSP®. Providing value, not only in the products and services they are selling but also in the relationships they are establishing, is the very essence of the CSP® program.
The Certified Sales Professional (CSP®) Program is a sales certification for professionals who are employed as sales representatives, account managers, distributor representatives, and business development personnel. The CSP® program enables candidates to achieve the coveted CSP® designation, which the certified professional can place on their business cards and resume. This designation is a great door-opener and conversation starter during prospecting or sales calls.  Effective use of the designation on business cards, email signatures, and websites is a great way to let your employer, customers, prospects, and peers know that you are a true professional and that your business activities are guided by SMI.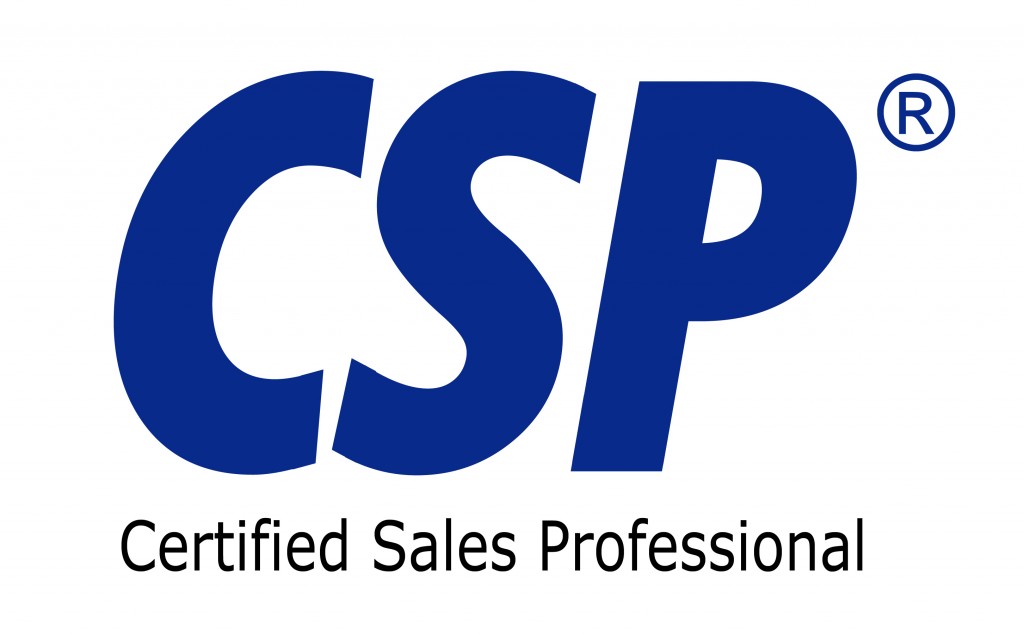 For the Organization's Sales Team
Alignment with the organization's core strategies and culture with globally recognized best practices

Develop focused, inspired and disciplined sales teams

Acquire the latest knowledge and technology know-how

Instill loyalty, passion and commitment to organizational long-term goals

A commitment to personal career development and lifelong learning

Set measurable benchmarks within your sales team for clear reward systems
For the Independent Sales Personnel
Professional sales competencies that are recognized worldwide

Leadership skills that drive results

Latest knowledge and know-how to offer best value to your clients

Productive tools and resources to increase your efficiency and effectiveness
Why Get Certified
For the credibility of the profession, it is important to recognize sales professionals who have met and surpassed high standards of education, experience, knowledge and ethical conduct. Sales and Marketing Institute International (SMI) established a sales certification for professionals to complete in order to be able to use its professional designations. This sales certification provides a standardized structure to assure maximized sales and profitability performance.
When you take the CSP® Program to earn the CSP® designation, you'll have more than a few letter to putafter your name, you'll have validation of your expertise and knowledge of key sales competencies.
The CSP®designation:
Distinguishes you as a person any buyer would want as a partner
Enhances your professional image
Recognizes you as someone who is committed to professional development
Announces your expertise to your employers, peers, principals and customers
Ensures greater sales success for you and your company
Once you have completed this program, you'll be able to:
Identify challenges facing today's sales professionals and acquire the selling skills required to meet those challenges
Demonstrate the tactical, strategic and self-management skills required to succeed in the sales profession
Produce tangible returns by increasing your skill level and becoming a top producer
Who can become CSP®
Sales people in every industry and segment of the sales process can attend the CSP® program. These include sales representatives, brokers, direct sales, distributors, and even sales managers who manage sales representatives. Anyone who calls on customers and who aims to increase the productivity and profitability of their company should attend the CSP® program.
The following individuals can become CSP®: 
Entrepreneurs
Sales Agents
Medical Representatives
Healthcare Sales Professionals
Account Managers and Executives
Business Development Officers
Marketing Professionals
Store Managers
Telemarketers
Operations Managers
Sales Engineers
Customer Service Representatives/Associates
Find out the benefits of CSP® certification